Mass o' the gas!!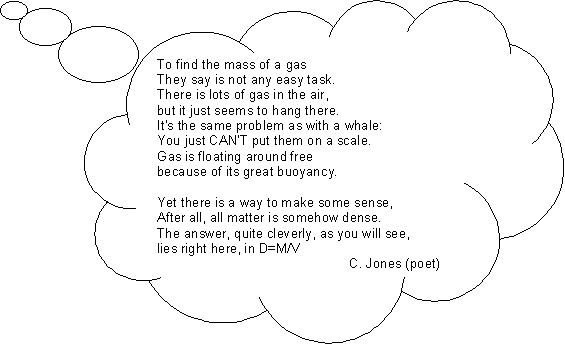 In this lab activity, we are going to take advantage of gas's relatively low density and it's relatively high buoyancy. Prior this lab, I had us all share our ideas of how to find the mass of a gas. Because we want accurate results, we will follow the same procedure, share our data, and calculate the average. If we are careful we will get great results:
METHOD ONE:
To make our gas we will use Alka SeltzerÒ tablets, which produce carbon dioxide (CO2).
Fill a beaker with » 200 mL of Amity waterÔ .
Thoroughly dry the outside of this beaker.
Calibrate the TBB and mass the beaker and water. Record below.
Mass an Alka SeltzerÒ tablet. Take care not to get it wet or damaged. Record.
Drop the tablet into the beaker. Observe. Once the tablet reaction is complete, mass the contents of the beaker. Record.
Have a group member write data on the board so we can do averages.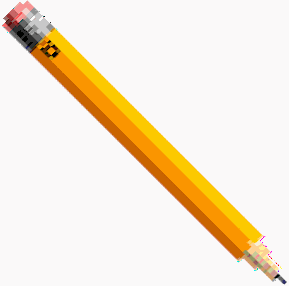 Mass of beaker and water (g)

Mass of Tablet

(g)

Mass of beaker contents (g)

Inferred mass of CO2 (g)

Your trial:

Class Averages:

na

na
Discussion notes:
Carbon dioxide has a certain density. Its density will change as temperature changes. At normal pressure and room temperature (20° C) CO2 has a density of:
If you have the density and the volume of a gas, you can find the mass of the gas. The trick is how do you find the volume of a gas? Try this!
METHOD TWO:
You will need: A small Erlenmeyer flask, tubing, one-hole rubber stopper, glass bend, large graduated cylinder, bucket of water, Alka Seltzer tablet
Fill large bucket with water about two thirds of the way
Fill large grad cylinder with exactly 500 mL of water
Fill Erlenmeyer flask with water about halfway.
Take large grad and with one hand, firmly seal off the top and invert it. Fully submerge hand and sealed end of grad in water bucket and remove hand. Keep the grad top underwater.
There should be no air in the grad cylinder (except maybe a tiny bubble)
Have the person holding the grad take the glass bend end of the rubber tubing and insert this into the grad cylinder. Hold it there.
Carefully break the Alka seltzer into two pieces.
Get the rubber stopper so it is ready to be QUICKLY placed on the Erlenmeyer flask the moment after the tablets are dropped.
Let the reaction go to completion. Guarantee this by gently swirling the flask at the end.
Remove the tubing from under the grad.
WHILE KEEPING THE GRAD UNDER THE WATER in the bucket, place your hand on the grad cylinder opening to make a tight seal that won't let any water fall out.
Hold hand as a seal and pull grad out of bucket and flip the grad over
Calculate the volume of the gas. Use the chart below to record what others in the class got and get the average: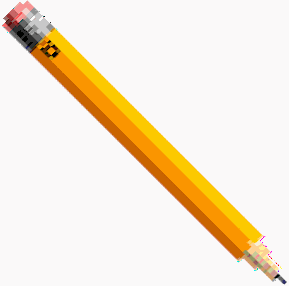 Starting volume (mL)

_

Ending volume (mL)

=

Volume of gas (mL)

-

=

-

=

-

=

-

=

-

=

-

=

-

=

-

=

-

=

AVERAGE:
Discussion notes: